Medical Injection Molding Tips
Medical injection molding is becoming a strong industry sector supporting manufacturing growth in the U.S. The emergence of medical technology has created substantial growth opportunities for industries across the U.S., but unlike commodity products, medical product development requires tighter and more stringent controls to avoid failures in a field where lawsuits have become commonplace. Promold Plastics, based in central Connecticut, has been in business for over forty years and has spent more than the past 25 years supporting the dynamic growth of the medical industry by supplying OEM's with plastic components in production quantities which have contributed to many successful medical product designs.

Polypropylene head immobilizer
The ability to work with clients early in the R&D Stages of medical product design, develop tooling, perform short development runs for testing, and then make tooling changes on the fly has helped to make Promold Plastics the premier choice for medical injection molding.
Medical injection molding refers to a specific manufacturing process, with a specialization in the medical industry. The entire injection molding industry for all markets has developed and matured over the past 50 years in the Massachusetts and Connecticut Area. Medical injection molding requires specialized tooling (an injection mold) and an injection molding machine (a.k.a. the molding press). Plastic pellets are melted down into a heated cylinder so that the molten plastic can be injected into the mold in order to form the part. As simple as this may sound, there are many variables in this process that can affect the finished product, so focusing on quality and consistency in the manufacturing process is critical. If a plastic coat hanger varies from part to part and the thickness differs by .010 in., the coat hanger would still serve its purpose and the end-user would never notice the difference, and even if they did it would not matter as the coat hanger would still serve its purpose. This type of variation in a medical product could result in whether or not the end product would function properly and this would matter to both the Doctor and the patient as well. This is why the manufacturing process must be seen as a whole.
Here is a list of some common yet critical variables found in the process that need to be controlled to some degree in order to satisfy some specific requirements.
The raw material – Selecting the right material is critical. Very seldom will reground plastic be used for a medical injection molding application as the viscosity from lot to lot will vary enough to have an impact on the molding process thus creating a dramatic impact on the molded part.

Injection Mold
The injection mold – (Definition) A properly designed mold will be able to maintain a consistent surface temperature to assure that every shot of plastic injected into the mold will be done under consistent conditions. A variation in mold temperature may cause the plastic to shrink or fill out differently, resulting in a slight variance in the molded product from piece to piece. Once again, in many cases this variation might not matter, however, when making a injection molded part for a medical application, this variation can make all the difference in the world.

Like any tooling, the injection mold is likely to wear over time. Quality inspection monitoring and historical data collection is required in order to see signs of mold wear. Some factors that may contribute to pre-mature mold wear are the tool steel used, the complexity of the mold cavity, and the raw material being molded (as some engineered resins with coarse additives can lead to excessive wear on a mold built from soft tool steel.

The injection molding machine – The cycle of the machine must be optimized in such a way that it is steady and able to maintain consistent parameters from cycle to cycle. Most modern machines today are capable of meeting this requirement and if the injection mold is designed correctly, the parts will be able to eject from the mold without human intervention so that the machine can be set up for an automatic cycle.
Measurement – Although measurement sounds straight forward, there is a lot of opportunity for error in measurement, or at least significant variation. One method many companies use to verify that the method of measurement they select has minimal variation is a gauge R&R Study. A quality house will have the ability to perform these operations and understand what applications can benefit from them.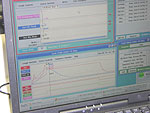 Process Monitoring
Process monitoring- Some machines today have built-in monitoring for the injection molding cycle parameters, and in some cases, can save historical data for every shot over a period of time and create a printout of the data. Even though this method is suitable for many injection molding applications, there is an even more accurate way to monitor the consistency of every shot by using "in-cavity pressure transducers" that measure the cavity pressure for each shot. If the cycle times and cavity pressure are constant for every shot, then the properties of the molded part will be consistent. This method requires up-front planning in the mold design. One company that supplies this technology is RJG, Inc.

One common practice deployed in medical injection molding is the use of SPC (Statistical Process Control). This practice can be overwhelming and create a lot of extra work with little value in return if poorly implemented. However, if properly implemented, it can create very good insight on the stability and repeatability of the process.']
To help ensure the successful SPC deployment, another method some companies use is a more up-front approach known as design of experiments which forces thought to be given in what is being measured and how it correlates to the process parameters. This allows individuals to make better assumption when analyzing the Statistical process data.

Overall what most companies are looking to do is reduce the risk of failure when launching a new product. This can be achieved with good up front planning and by performing the necessary steps to make the process more predictable and easier to control.
For additional information, please contact Promold Plastics.
Rick Puglielli (President, Promold Plastics)