Why buy Made in the USA Products? (Click here)

Promold Plastics Employees Highly Engaged according to independent survey.
An independent survey revealed that Promold Plastics Employees are 5 times more Highly Engaged than the national average.
Read more....
Top Ten Things Companies Need to Build Quality into Their Processes.
Understanding customer requirements and managing the supply chain are some of today's biggest challenges in manufacturing. Find out what leading companies are looking for before putting just any supplier in their supply chain.
Read more...
National Publications Released
Prepare for Validating the Injection Molding Process (Published in "Medical Design Technology" October 2011)

Lean Versus Quality Management: They Don't Have to Conflict (Published in "Plastics Technology" December 2011)
---
Who are we?
Promold Plastics specializes in custom injection molding and mold making. We have been in business since 1967 serving the Medical, Electronic and Consumer Industries. We provide our customers with a one-stop solution for all of their custom designed plastic product applications.

What do we do?
We offer the following services in-house:

Engineering and Design
Moldmaking and Tooling
Injection Molding
Secondary Operations

Quality Custom Injection Molding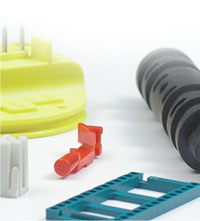 Why use us?
Many of our customers find it more cost-effective to outsource the manufacturing of their plastic components so they can focus their time and energy on developing new products. We have a complete quality inspection lab equipped with the latest measuring equipment. We utilize the latest statistical quality techniques for some of the most demanding customers. Our customers range in size from small independently owned organizations to international fortune 500 companies. We currently manufacture all of our products domestically and ship world-wide.
What makes us different?
On the surface, Promold Plastics may look similar to other successful molding companies, but the real difference is in our management philosophy which empowers our people to continually improve our systems and process in a way that creates more value for our customers. Click here to learn more about our Management Philosophy.
Our Commitment to Quality: Click Here
Where are we located?
Promold Plastics is conveniently located in central Connecticut with easy access to all major highways and within approximately a 30-minute drive to Bradley International Airport serving Hartford and Springfield.
How to contact us and learn more:
Click Here